Online Booking For Exams 24/7!
Welcome to Bogey Hills Animal Hospital
Bogey Hills Animal Hospital is a full service companion animal hospital which has been serving the St. Charles County and surrounding areas for over 25 years. We offer a wide range of services for your dogs, cats, pocket pets, and some limited services for birds. It is our commitment to provide quality veterinary care throughout the life of your pet. We understand the special role that a pet plays in your family and are dedicated to becoming your partner in your pet's health care.
Our compassionate team of veterinarians and support staff take pride in providing the comfort that your pet needs during these stressful times. We provide comprehensive preventative care for your pet, so that our patients can live the longest and healthiest life possible. Our routine wellness care includes regular physical exams, vaccinations, parasite prevention and testing (heartworms, intestinal, flea, tick), microchips, nutrition, spay/neuters, and dentistry. We also offer feline boarding and a full line of grooming services with experienced groomers by appointment.
Have you heard of canine influenza or H3N2?
There have been recent confirmed cases in 8 states and while not transferrable to humans, it is highly contagious to dogs. In some cases, dogs may not show symptoms but be carriers of the infection for up to 24 days. You can find information regarding Canine Influenza by clicking here, including symptoms and prevention tips. If you have any questions or concerns, please do not hesitate to give us a call and we would be happy to speak with you!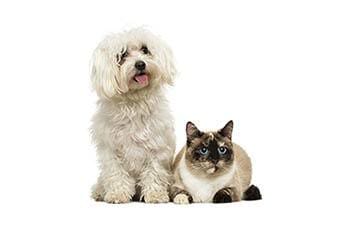 Happy, Healthy Pets
We also strive to continually advance our knowledge so that we can provide our patients with the latest in diagnostics and treatments. We offer our patients general surgery, pain management, prescription diets, in-house and outside laboratory services, digital radiology, ultrasound, and a convenient on-site pharmacy.
Stay Connected with Bogey Hills Animal Hospital
Thank you for taking the time to read about our veterinary practice and the services we provide. We welcome your comments and suggestions. Find us on Facebook or Twitter to connect with our practice. Pet Portals is now available to all of our clients, where you can request appointments, access your pet's vaccination status, and request prescription refills. Please call us or contact us online for all your pet health care needs.