Our Veterinarians
The Bogey Hills Animal Hospital team of skilled veterinarians welcomes you to our practice. Proudly serving the St. Charles County and surrounding areas. At Bogey Hills Animal Hospital, it is our daily privilege to provide quality vet care to your cherished pet, with compassion and competence. We hope to ensure a positive impact on our patients, pet owners and the local community.
Dr. Melanie Cross
Dr. Cross attended the University of Missouri for undergraduate studies in biology before graduating with her DVM in 2000. She joined Bogey Hills Animal Hospital after graduation and was able to return to the St. Louis area where she grew up. Outside of work, she is busy spending time with her husband and chasing after two children. She has two pets: A crazy, black lab mix named Chewie and a beautiful blue-eyed brown tabby cat named Fred.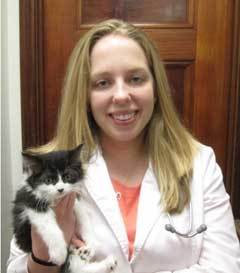 Dr. Amy Lovall
Dr. Amy Lovall was born and raised in the St. Louis area and earned a Bachelor's degree in biology at Truman State University before graduating with her DVM from the University of Missouri College of Veterinary Medicine in 2013. She practiced small animal medicine at another clinic in the St. Charles/ St. Louis area for a year and a half before joining Bogey Hills Animal Hospital in Feb 2015. She loves all areas of veterinary medicine and has special interests in soft tissue surgery, diagnostic imaging, and clinical pathology. Outside of work, Dr. Lovall enjoys home improvement projects, watching movies, and traveling with her husband, Mike. She also enjoys spending time with her spoiled rotten kitties, Harley and Simon.